Aegean Turkey – what is worth to see?
Turkish Riviera or Aegean Turkey – what to choose?
On our blog most of the articles are about Turkish Riviera, because AlanyaOnline's office is located in the most popular Turkish resort - Alanya.
Turkey is a very big country and has many attractions. So everyone can find something interesting for themselves also in Aegean Coast. Most of the people who go to Turkey for the first time feel a bit confused. They have a problem with deciding which part of Turkey would be the best for their holidays.
Most often tourists choose popular resorts in Mediterranean area, avoiding quiet Aegean Coast. In our opinion everyone should visit both of them - Turkish Riviera and Aegean Turkey at least once in their lives to get to know them better and make own opinion.
The biggest difference between Turkish Riviera and Aegean Turkey is climate. The weather in Aegean Coast is more pleasant because the air isn't so hot. During summer time the temperatures are lower than in Turkish Riviera.
Moreover green plants, lovely gulfs, beautiful landscapes, turquoise color of the see, historical monuments are extra advantages of the Aegean Coast. But let's start from the beggining.
Aegean Riviera
Also known as 'The Turquoise Coast' is located in the west of Turkey along the Aegean Sea. Currently its territory consists old area of Lycia and Ancient Greece. On this part of the coast you can find the following resorts:
BODRUM – it is the most popular resort in Aegean part of Turkey (south -west), located opposite of very famous Greek island - Kos. Close to the city, around 30 km, there is an international airport which is extra advantage of Bodrum. Transfer from and to the airport is fast and without any problem. The city is quit small but really beautiful. It remands Greece because of white and blue colors which are very common here. On our blog you can find the article about Bodrum and its attractions worth seeing.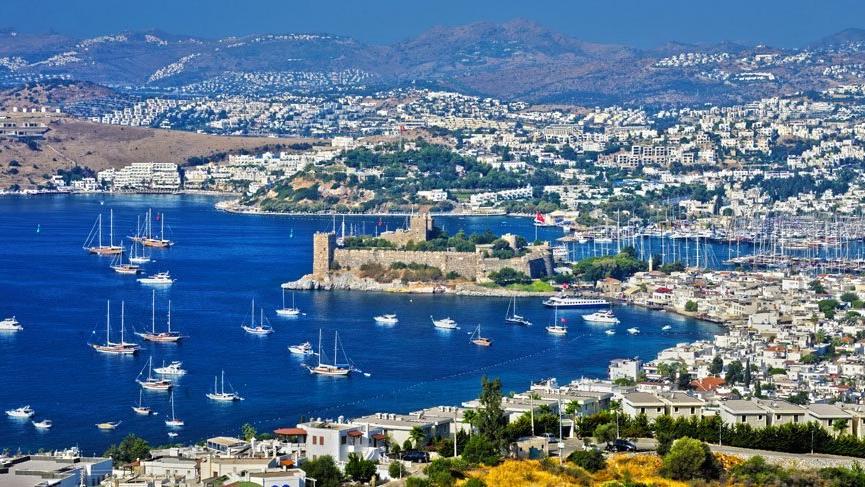 MARMARIS – this tourist resort, and at the same time a port city, is located between Aegean Sea and Mediterranean Sea. Near Marmaris there is Greek island Rodos where you can easily go every day by ferry (because of pandemic cruises could be changed). This city is charming because on the one side there is sea and on the other – mountains. People who like walking will be pleased because of 9 km promenade that leads to the city center. Also turists who like water sports (like sailing, windsurfing) can find something for themselves because they are very popular here. At the same time in Marmaris there are lots of restaurants, bars with live music and clubs where people can dance till the morning.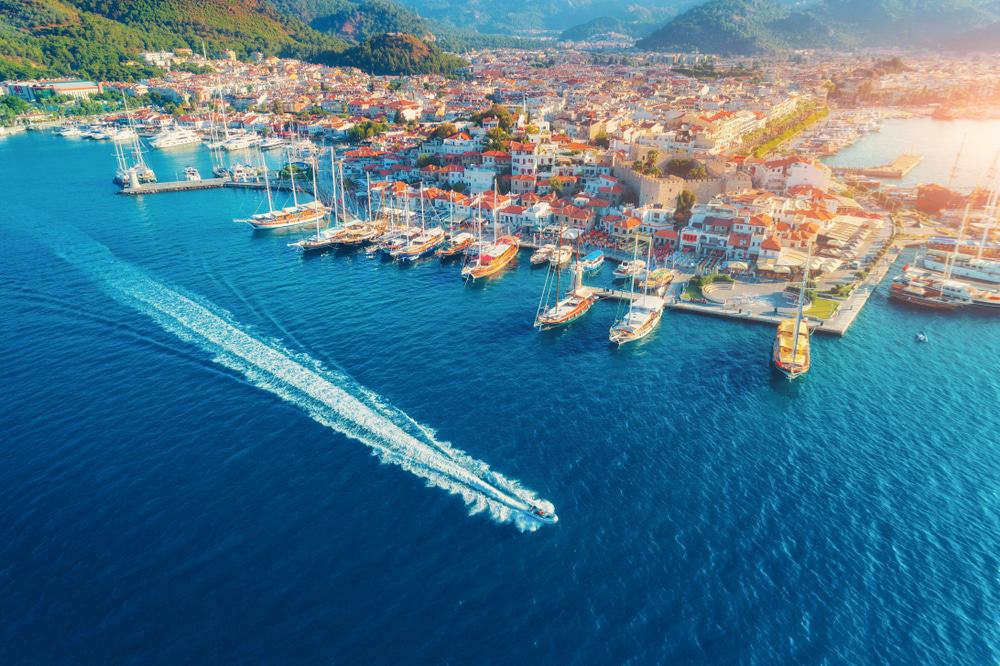 FETHIYE –another Mediterranean resort based in south-west part of Turkey. This old city offered lots of monuments but unfortunately most of them were destroyed by the earthquake in 1958. Around 14 km from Fethiye there is a small seaside town named ÖLÜDENİZ with famous bay and the most beautiful beach in Turkey. The bay is surrounded on three sides by mountains. It has beaches with white-gold sands, safe descents to the sea and amazing turquoise color of water. In Turkish name of the city means 'quiet sea'. Because of small amount of waves water is very calm here.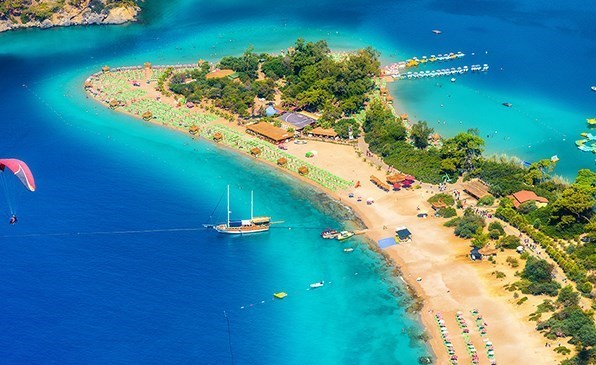 CESME – this is a typical holiday seaside resort. Because of its climate Cesme is a good choice for water sports like windsurfing and kitesurfing. Alanyaonline recommends to go there in summer time because in winter season city offers much less attractions. In Turkish name of the place means 'fountain' because in the city you can find lots of them.


DIDIM – a small, lovely touristic town with very long promenade along the sea. You can find here lots of restaurants, coffeehouse, shops, boutiques and night clubs.There are sandy and beautiful beaches too. This district's name is Altinkum which in Turkish means gold sand. The most popular monument in DIDIM is Temple of Apollo. Before there was the greatest oracle. Also it is one of the biggest monuments which were built by ancient Greeks. Don't forget about famous relief 'Medusa head'.


KUSADASI –a long time ago this region was ordinary, fishing town. Tourists didn't come here so often. But year by year KUSADASI developed very fast and changed into another resort. The name of the city in Turkish means 'The island of birds' and is connected with small island based in the center, called GuvercinAdasi. The shape of the island reminds bird's head and you can find there symbol of the city – stone fortress. In Kusadasi there is harbor, where several thousand people come every day by big cruise ships. The most beautiful beach here is Palm Beach Kusadasi. It's length is 22 km.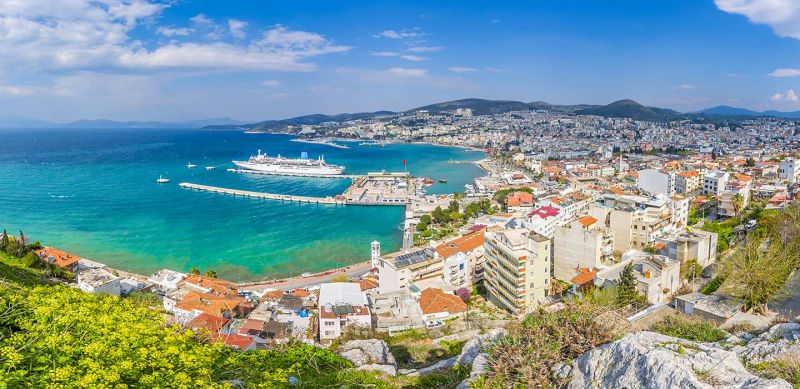 IZMIR – it is third of the biggest cities in Turkey. One of the most important harbor in this country (after Istanbul). It is not a typical touristic resort with lots of hotels near the beach and many visitors. Choosing Izmir you can discover another side of Turkey. In this metropolis lots of things happen, both during the days and at nights.There are many interesting monuments, promenade Kordon, restaurants, shops, clubs, indoor bazaar Kemeralti and more.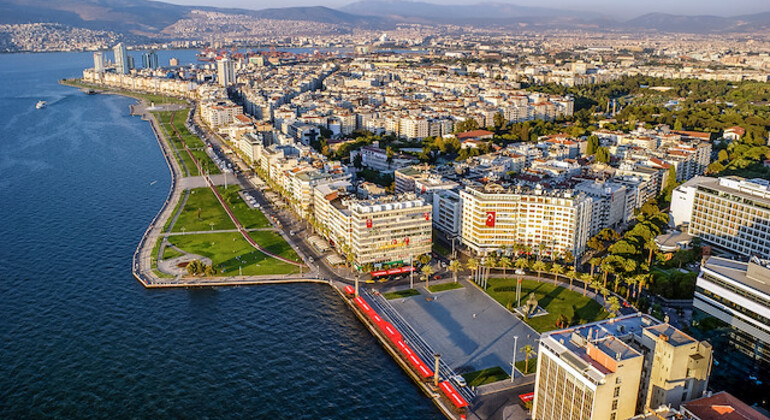 Aegean Riviera – what to see?
Below there is the list of the most important and popular monuments and places in Aegean Coast, which are worth seeing/visiting:
Ephesus – an ancient city which is one of the few well-preserved places in Turkey. The town is based near Kusadasi, around 20 km from there. Ephesus and its monuments were placed on the UNESCO World Heritage List. The most important monuments: Temple of Artemis, Library of Celsus, Hercules Gate, Church of the Virgin Mary, Ancient Greek Theatre.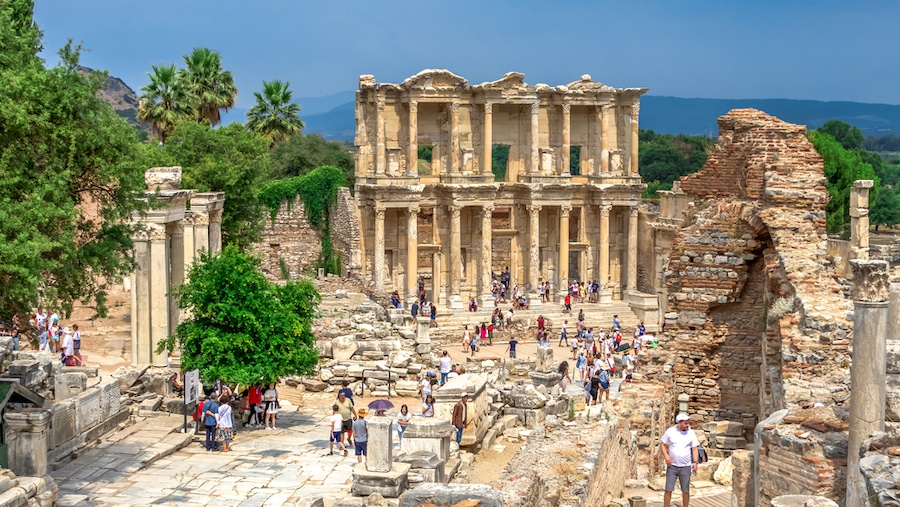 Troja – one of the most legendary cities which is known from the Homer's Iliad. Probably combat between Achilles and Hector was based in that place. Today you can see a big contraction of a wooden horse used by the Greeks during the war.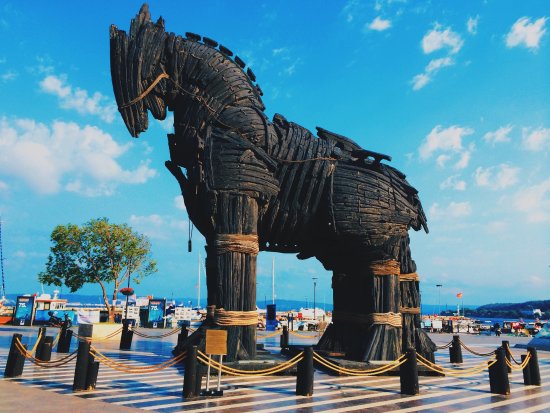 Gumusluk– a small seaside gulf and fishing harbor, mostly visited by Turkish people. There are no huge hotels with All Inclusive option and long, wide beaches.That's why it is not so popular touristic place. What is worth seeing? Definitely Rabbit Island! To reach this place you have to walk through knee-deep water what can make you a bit tired.


Saklikent Canyon– it is the popular touristic attraction only in the season (April-October). During winter time the level of water rise and canyon is flooded. This canyon is based 47 km from Fethiye. It is the longest and the deepest gorge in Turkey. Its length is 18 km. It is very narrow and high.
Dilek National Park – also called Milli Park. It is based 25 km from Kusadasi. Its area takes over 25 000 hectares. In the park you can see sandy and rocky beaches with clear water, canyon and caves. It is a perfect place for people who like spending time outside and walking a lot.
Pergamum – the ancient ruins of Pergamum are based in the most beautiful Hellenistic city – Bergama, province Izmir. There was the most important centre of culture and science. What should you see here? Pergamon Library, Theatre (for 10 tousands of spectators), Temple of Athena and of the Trojan, Red Basilica, Great Altar of Zeus and Archeological Museum. Ancient ruins of Pergamum were placed on the UNESCO World Heritage List in 2014.
Pamukkale and Hierapolis – it is the most popular attraction, visited both by tourists and residents. On our blog there is an article about Pamukkale when you can find ınformation about this amazing place.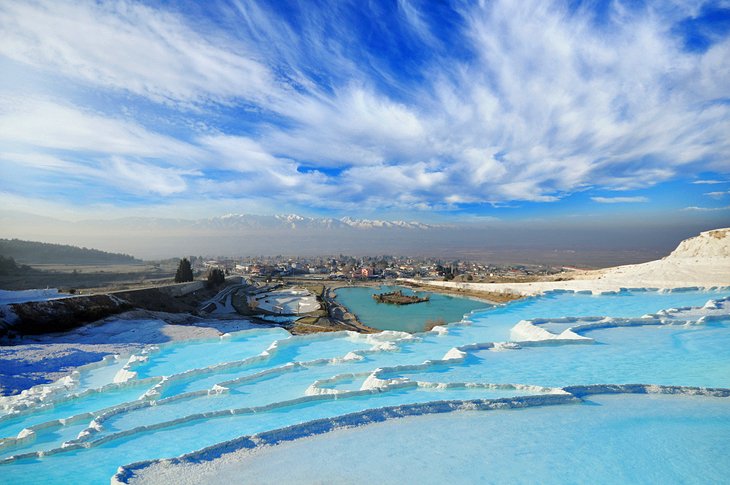 As you see Turkey offers lots of attractions - cultural, historical and natural. Let us to help you to get to know Turkey better with the best travel agency alanyaonline which is based in Turkish Riviera.